Live, hybrid or virtual event – Succeed with Tavata
Different event forms serve different needs for events. Whether you are arranging live, hybrid or virtual event, Tavata is great for each and gives very good chances for creating a successful event. Keep reading, and we will tell you how.
Tavata in live events
Tavata has been used in many different sized live events to make networking efficient.
Just before the coronavirus restrictions to live events and the 'era' of virtual events begun, Sports & Business Seminar 2020 was arranged in Tampere Pakkahuone. At the event Tavata tool was used to make all networking fluent. The idea of the seminar is to bring people from business and sports industries together to network and learn from each other. The event program included for example super inspiring speeches from the industries experts Mika Poutala and Shawn Huff.
In addition to the amazing event program and top speakers, the event organizer wanted to give the attendees some extra value.

"We have been dreaming of a great networking-app to suit our event size and needs for years. We have also recognised the need to this kind of networking-app from our clients. One of our events main values is precisely networking and meetings. People are the ones that create the event and networking is an important opportunity at events. Investment in Tavata was definitely worth it", said event organizer Ville Parkkila.
In the event, the attendees were able to network and find the exact right connections to their own business. As a result, cooperation plans and promising connections were already made during the event. These connections are also easily and conveniently maintained via Tavata.
"The attendees were business executives and employees in charge of leadership. Smaller service providers were able to connect and create new supply. The entrepreneur students got the chance to meet new people and start new projects with them. It has been great to see these new connections and projects made in the event", the event organizer stated.
Tavata in hybrid events
At hybrid events the attendees can decide themselves whether they want to join the event live and network on person or is it more suitable for the attendees to participate from for example home or workplace.
Tavata makes it possible for online participants to network and meet the people who attend live, and the other way around. Tavata's platform also has everything a hybrid event needs: presenting program and livestreams, virtual stands, partners, speakers, networking, and lots of other features. So, the attendees can experience the whole event, wherever they are.
T
oolbox Travels Summer Fun 2020 event was arranged as a hybrid event with Tavata. The organizer Toolbox Consulting is doing an important job enhancing travel industry's vitality. The event's idea was to bring together the industry's suppliers and buyers, hundreds of which participated to the event and from many countries. Some of the attendees could not travel to Helsinki to the event because of
coronavirus restrictions, but thanks to virtuality it was
possible to participate remotely too, from all over the world. The event was arranged with Tavata in a way, that whether the attendees were participating live or virtual, they had the chance to meet live and virtual attendees through video meetings.
With Tavata almost a thousand meetings were arranged at the event – a thousand new opportunities for business were created in just one day.
Tavata in virtual events
During the last year, Tavata has been used in many virtual events. Especially virtual recruiting events have been popular. For example, Turku region's virtual recruiting fair, held in the spring of 2021, gained almost a thousand attendees and were a success in every way.
There are plenty of reasons to favour virtual events. Networking is an important part of every event and event organizers have used Tavata as a tool to allow participants networking and arranging meetings at virtual events. In addition to making networking easy and fluent, it is also possible to use Tavata as all-encompassing platform for virtual events and bring all your event content onto the same platform. Networking, virtual stands and the program with it's livestreams and/or recordings are combined on the platform. With Tavata the attendees do not have to move back and forth on different platforms, and they can concentrate on the important parts - networking and the interesting program.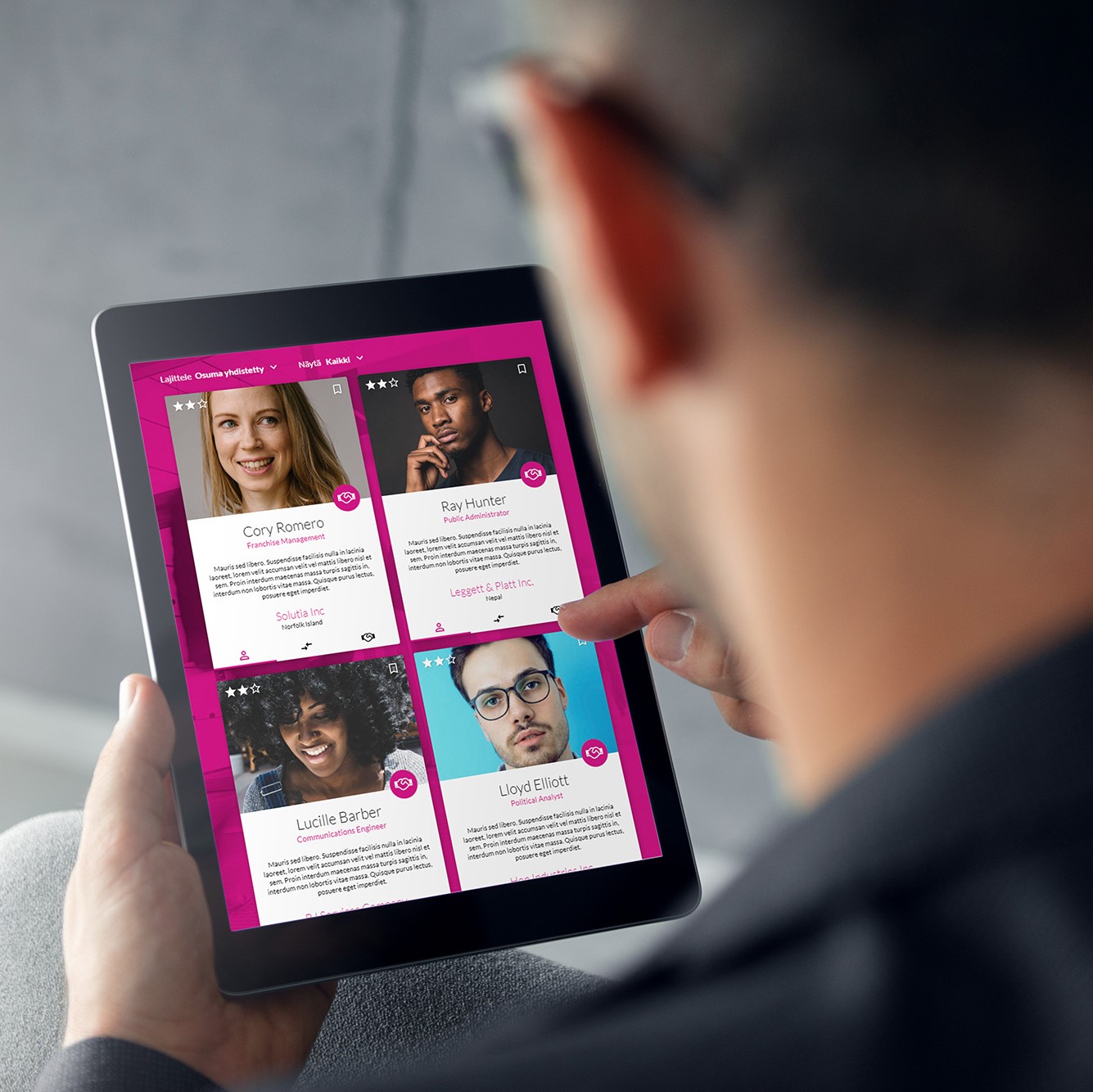 First virtual event ever held in Tavata was Start Up World Cup Finland 2020, which is the world's largest competition for startups. The annual event gathers the most innovative startup-entrepreneurs, the most influential decision-makers, and investors together. There have been over 500 top-speakers, over 50 000 attendees and 2500 investors at the event over the years.
In the year 2020 the event had to adjust in a new situation due to coronavirus, but thankfully the solution was found with Tavata.
All contacts and connections are extremely important in
this event, so when the event could not be arranged
as a live event, making of these connections had to be
ensured in a different way. Thanks to Tavata matchmaking-feature, the event attendees found just the right contacts for their business and were able to arrange video-meetings with each other.
"Cooperation with Tavata was fluent and good and we were able to carry out these essential connections, even with a quick schedule", summed Juho Mäkinen, one of the arrangers of SWCF.
A solution to all needs
Live, hybrid and virtual events all fit different needs. Whether you prefer meetings face to face, attending to the event remotely or maybe you want to give the attendees opportunity to both – we will surely find the best solution to you.
Are you planning live, hybrid or virtual event? Let's meet and discuss about how Tavata could be useful to you. Book a live demo or contact us through our contact form!