12.5.2020
Tavata releases new features for networking in virtual events
Tavata releases new features for networking in virtual events
The number of virtual events will undoubtedly grow in the future, and with that comes the need for functional digital solutions. Networking is one of the most important things for participants in B2B-events. Networking with other people in virtual events is not always guaranteed and for that reason Tavata is launching new features, which will ensure an even more functional networking app for virtual events. 
Virtual networking and video meetings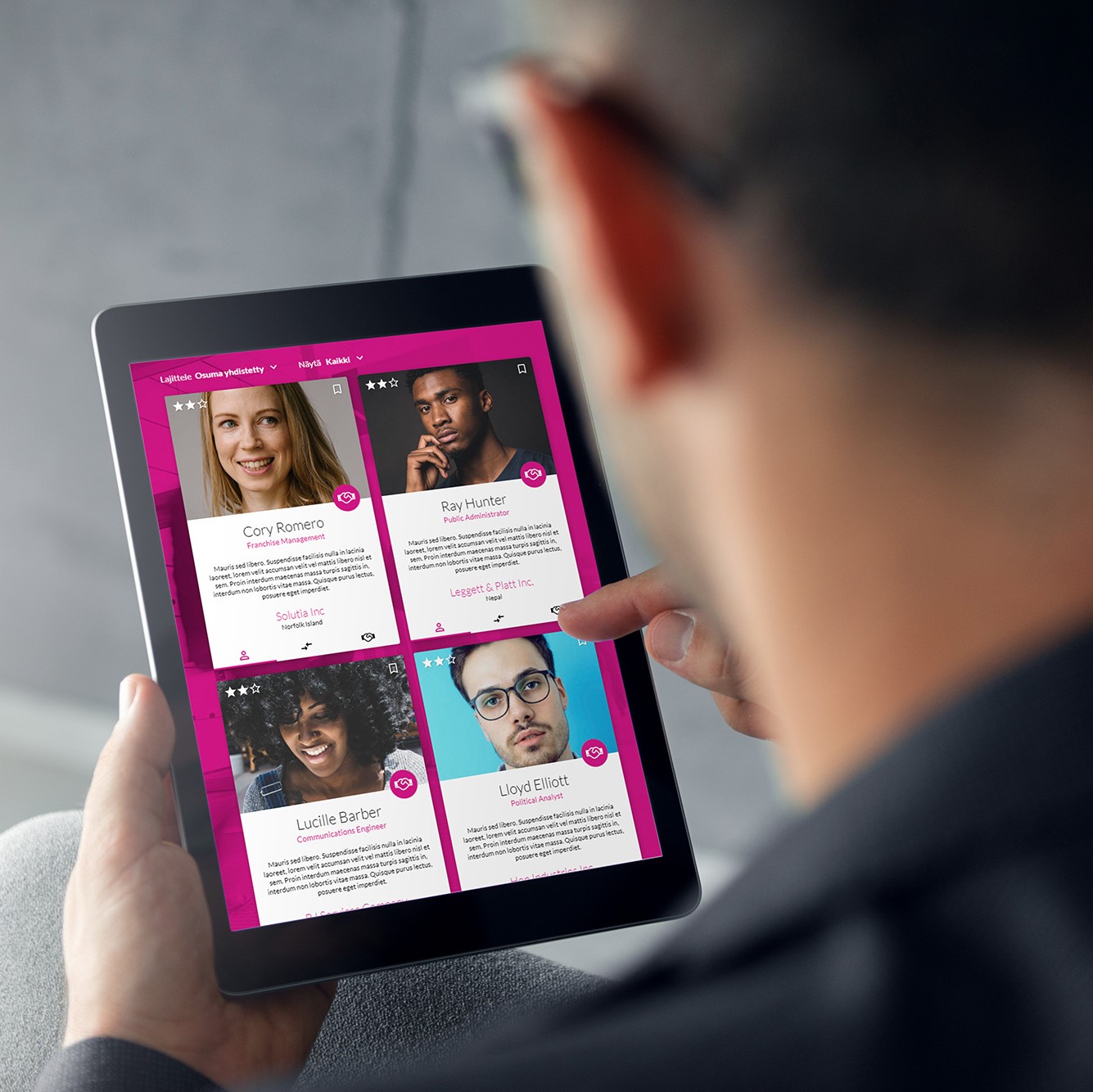 Networking is still important, maybe now even more than before. From participants point of view, events have traditionally been an important place to create new contacts, find business partners and customers. For virtual events an important question rises, how do I connect with other people?
Tavata has launced new features, which support organizing virtual events even better than before. Like previously, the event attendees have a chance to get to know other participants beforehand and find the right contacts with the matchmaking tool. Because the traditional face-to-face meetings are not possible, now participants have the chance to schedule video meetings for the event!
New features
Video meetings
The participants have a chance to schedule video meetings with other people beforehand. The length of the meetings, event schedule and other features are set by the organizer. Attendees have a chance to suggest meetings with the people they would like to meet, and the video meeting itself will happen smoothly within the Tavata app without any external links or hassle.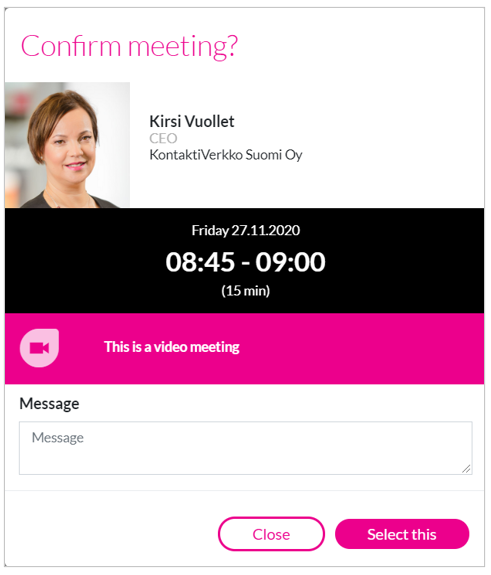 Links for streaming and records 
Links related to virtual event streaming can also integrated within the Tavata app to make the experience fluent as possible and moving from place A to place B easy.  
Program and participants personal timetable
The event organizer can completely personalize the schedule of the day. The participant only chooses which activities they would like to take part in, when to have meetings and mark when they are unable to meet. Easy, right?
For event organizer it is now possible to introduce event performers and add a multilayered programme for the event. In case the event program has overlapping speakers or workshops, they can be added to the program side by side and the participant chooses which one they would like to participate gathering their own schedule.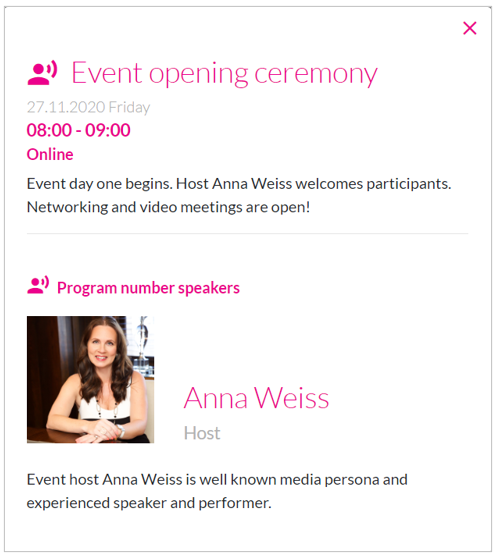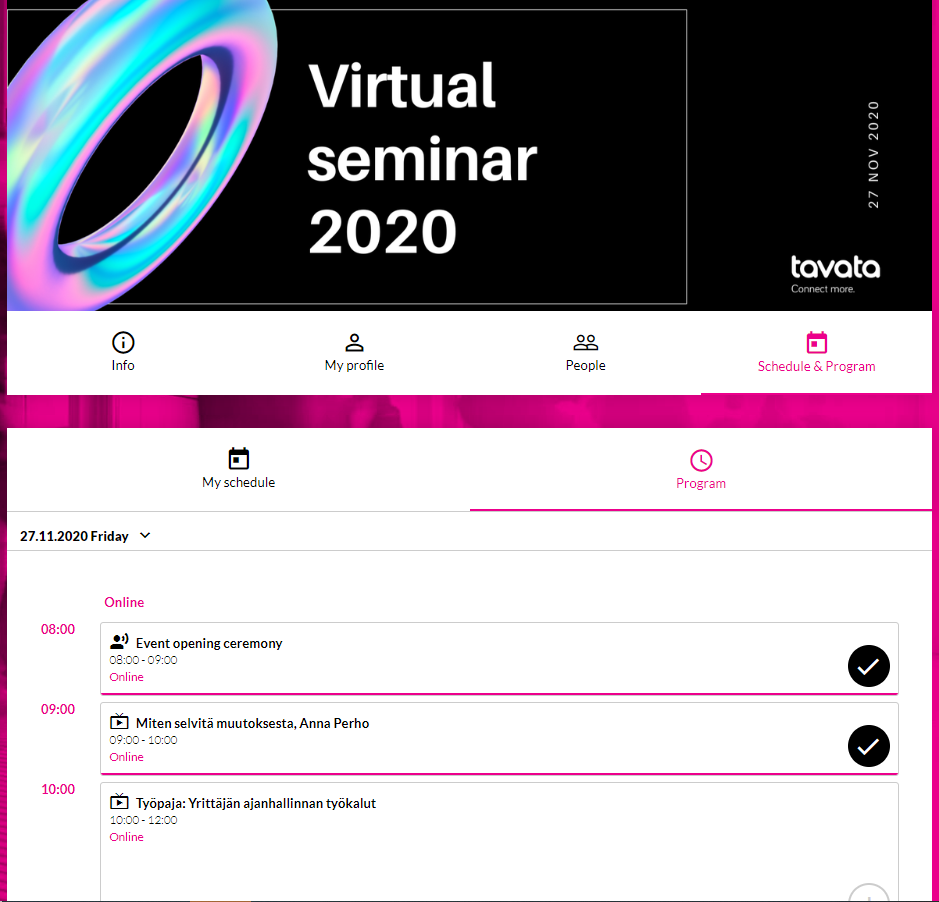 Tavata try out free of charge
Tavata is offering networking tool Tavata free of charge until mid June to support businesses during COVID-19. This way we ensure event organizers can have a quick start after the situation calms down, companies can operate successfully and virtual events can be organized – without forgetting networking. 
Free of charge period lasts until mid June and does not turn into automatic payments after the period is over. We hope the trial will serve as a chance to maintain networks easily, and for event-organizers to be able to restart their operations after the situation has calmed down.
Would you like to take networking to the next level in your virtual event, or would you just like to try out a new networking tool? We will happily help you with your questions and open Tavata management for you to use. Contact us, let's talk and meet safely online! You can find our contact information here.